Directions to the Sabin Center
The Sabin Center is located on the fifth floor of Columbia Law School's Jerome Greene Hall.
Click on the map below to be redirected to Google Maps. For directions and sustainable transport options, you can also visit Map My Emissions.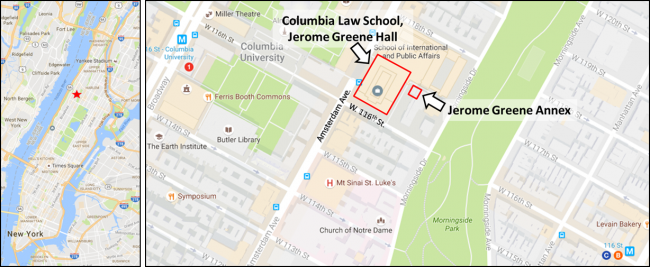 The main entrance to Jerome Greene Hall is at 435 West 116th Street (near the corner of Amsterdam Avenue), across the campus from the 116th Street stop on the #1 subway line. If you are coming via the B or C subway lines, be prepared to walk up the dozens of stairs in Morningside Park.
If you are attending an event in Jerome Greene Annex, enter the courtyard through the gate on West 116th, then walk between Jerome Greene Hall and Wien Hall all the way to the cylindrical structure at the end of the courtyard. Take a right. The entrance to the Annex will be on your right.